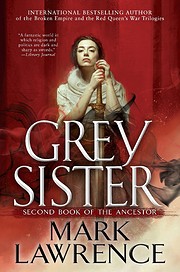 I really appreciated the notes at the beginning of the book that went over the highlights of what to keep in mind if you'd read Red Sister a while in the past. And I particularly appreciated that the author specifically called out that Keot did not appear in the first book, because having Nona have a ride along devil who would talk to her and occasionally try to influence her actions definitely would have confused the heck out of me if I hadn't known he was new to this book.
I enjoyed seeing how much Nona and her friends have grown since the first book, and also how they have to deal with the wider world, now that they're closer to actually being Sisters.
One thing that remains true in this book as well as the last is that we have a couple scenes of Nona when she's older, and is a full sister, so you know she survives the book. But man, the author is really good at making you unsure how the heck he's going to pull that off. The last part of this book was tense! I'm definitely interested to see how the story ends.