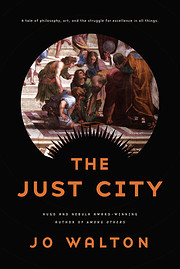 Athene and Apollo decide to do an experiment – create Plato's Just City. They bring men and women from all over time that believe in Plato's principles, and have them set up the city. It's populated by children purchased from slave ships, and Athene brings in some robots from the far future to do some tasks for them.
Apollo decides to become fully mortal to experience the experiment fully (and because he's still seriously confused by what happened with the nymph Daphne, and he suspects being mortal will help clear that up.)
The story is told through several viewpoints. The primary three I focused on are Apollo, Maia (a Victorian woman who was educated by her father and prayed to Athene one night when it was clear that her life was not going to live up to what she'd been taught), and Simmea, one of the girls bought from the slave ships. It's really interesting to see how creating the city changes them – Apollo learns quite a bit being mortal, and Maia and Simmea's journeys are very interesting.
The book comes to a rather interesting end that could be seen as just an ending, but there are more books in the series, so it'll be interesting to see what else the author wants to explore.