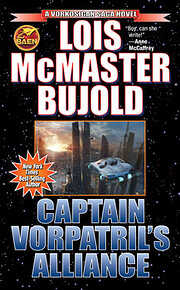 This book occurs relatively late in the timeline of this series, and concerns Miles' cousin Ivan. It's more or less the story of how a notorious womanizer finally finds the right woman, and settles down.
It helps that the right woman is one of the daughters of one of the baronial families of Jackson's Whole. Unlike Barrayar, the Whole is ruled by those with enough money and cunning to stay in power, and Tej's family had that power, up until she and Ivan manage to meet on Komarr. He's there for work, and she's on the run after her parents and oldest brother were killed in a hostile takeover.
This book goes exactly where you think it's going to, until a rather significant wrench gets throw into the works, and that's when the story goes from good to great. It's a mad caper, barely featuring Miles, no less, and it's wonderful. Not that I've ever had a bad thing to say about this series.