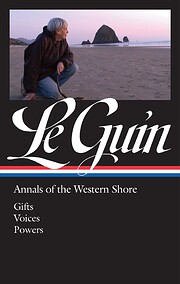 Leave it to Le Guin to write a young adult book that's a really moving story of slavery and freedom.
This book is the story of Gavir, a slave in one of the households in the city of Etra, part of a confederation of cities that constantly seem to be at war with each other, always shifting alliances. In many ways, Gavir is very lucky – his sister is with him, and he's being educated by the current teacher (also a slave) to educate both the children of the house, and the other slaves. It seems like a happy life, where slavery is almost an afterthought.
Of course, it's not an afterthought. Life goes on, and childhood idylls end. After an unspeakable tragedy, Gavir ends up going on a journey, and finds himself, and a new view of the world, along the way.
I actually find it hard to say more about this book – half of the experience is being in the story, and seeing Gavir grow as he encounters new places, ideas, or people. It's an amazing book, which considering the author, should come as no surprise.