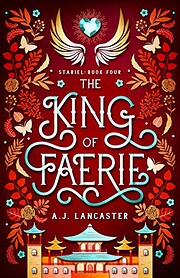 I really enjoyed the end of this series. Definitely one of the best free series I've ever read. (The first book was completely free, but I got the others through Kindle Unlimited.)
Hetta and Wyn are under a deadline – she's pregnant, and they need the High King's blessing to marry. But no one's seen the High King in ages. Wyn and Hetta can find a way to him, if they can get all of Wyn's siblings together, but that includes his sister Aroset, who wants to kill the rest of them.
I don't think it's a huge spoiler to say that Hetta and Wyn do get into the wilds of the Fae kingdoms, which is where the King is hidden away. I really liked the descriptions of those lands, and how everything leads up to also solve the mystery of Wyn's missing mother.
Great series – I'm glad I broke my terrible habit of stringing things out, and went ahead and finished it.