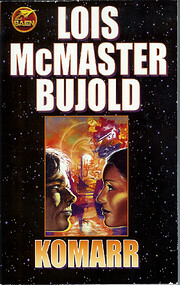 I've got the BF reading the early Cordelia and Miles books, which made me realize I've been hoarding a few of the other books in the series in my TBR pile (a habit I really need to shake).     So I picked one up, and enjoyed the heck out of it, as I always do.
Miles is older now, forced out of the military due to injuries (I mean, he did actually die).     So the emperor has made him one of his auditors, a small group answerable only to Gregor himself.    Miles is the youngest, and this book is his first big job.     He and another auditor are sent to Komarr, the planet next to the only wormhole with access to Barrayar (the empire's home planet).     Vorthys, the other auditor, has a niece there, who's married to one of the administrators of the terraforming project.    Since this series was written jumping around in Mile's life, I don't think I'm spoiling anything by saying that this is our introduction to Ekatrin, Mile's wife, and she is every bit as awesome as you know she should be to end up marrying Miles.
This is a pretty good political story – Komarr has a very uneasy relationship with Barrayar, and the case that's brought the two auditors there ends up being very interesting indeed, with a couple great twists at the end. I love Bujold's work!