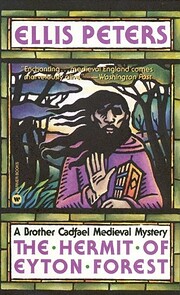 I've been cycling through books recently – I've actually got three open books on the Kindle at the moment that I haven't been able to keep attention on long enough to finish. (I'll probably nope out on one by the end of the year, and another is a short story anthology that I'm really enjoying, but is incredibly dense to read, so I can't read it straight through.) I realized I've been avoiding my physical book to read pile, and as soon as I looked at that, realized I could do some comfort reading.
This particular edition of this book doesn't have its order on it (most of the books have "The nth Chronicle of Brother Cadfael, of the Benedictine Abbey of Saint Peter and Paul, at Shrewbury" as part of the cover), so I should have read it a few books ago. Fortunately, the stories are pretty standalone, so other than what's going on with the ongoing battle between Empress Maud and King Stephen that serves as the backdrop of the stories having events that already happened, the actual events of things in Shrewsbury flowed along quite nicely.
This book is really hard to summarize without giving away plot points. What I will say is that there are two murders here, and the reasons for both, and how the individual murderers are punished are so very reflective of the times of the setting, and I really appreciated that. The end of the book ends up as a discussion between two of the characters about the morality of one of the murders, and it's not how that conversation would have gone between two people today. I just so appreciate the attention to historical details in this book.