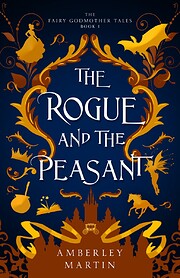 Read for LibraryThing EarlyReviewers.
I really enjoyed this book – it's a really nice twist on the princess being rescued by a prince trope. I really like that we get both Esme and Rory's points of view. Esme's been told all her life that she'll be a queen (even though she's a peasant), so when a woman appears to whisk her off to Finishing School, she's prepared to go along with things.
Enter Rory, who kidnaps Esme on her journey – and because we get his point of view, we know that this is not the first time that he's done this. Except this is the first time that the kidnapee doesn't appear to be in on the game. And that's where things get interesting.
This was really smartly written to give you exactly the ending you'd expect, but the journey doesn't take our heroes anywhere along a path you'd expect. Loved it.