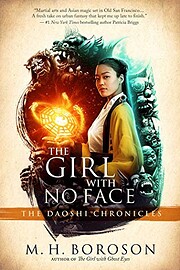 Xian Li-Lin is a Daoist priestess in 19th century San Francisco. After the events of the first book of this series, Li-Lin has left her father's temple after he disowned her, but she still tends to the dead. Which is why she's brought the body of a young girl who was killed by a plant growing out of her.
I really enjoy these books – it's nice to see a non-Western mythological background explored, and having it set in such an interesting period of San Francisco's history is an added bonus. I really don't know how accurate these stories are to the traditions they draw from, but they definitely make for great story telling.
I'm interesting to see where this goes next – Li-Lin's relationship with her father definitely has room to grow, and there are several side characters I'm interested to know more about.