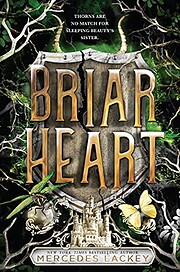 This is a sweet take on Sleeping Beauty. Miriam is the king's stepdaughter, the only child of the King's Champion, who tragically died in battle. After this, his widow marries the king. (Don't worry- it's not an evil step parent situation – the king is very fond of Miriam, and treats her like his own daughter.) So when the king and queen have their own child, Miriam is just as besotted with little princess Aurora as everyone else.
The kingdom is well familiar with planning christenings and other important events for their royal family. It's very important to invite all the local Dark Fae so they have no excuse to curse anyone. Aurora's christening is going along swimmingly until a Dark Fae woman no one recognizes shows up, and attempts to curse the little princess. Until Miriam stands in the way, and manages to kill the Dark Fae woman.
Turns out Miriam's father may have had Fae blood, and she's got some touch of Fae magic. So she decides to train to be her sister's protector. This story takes place entirely while Aurora is still a baby, so it's really about Miriam, and growing up, and learning to make good decisions. I really enjoyed it.