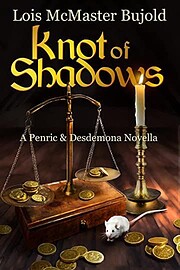 Another great Penric and Desdemona story.
Pen and Des are summoned to the healer's house over a most unusual illness. What they find is even more usual than the healer had suspected. A man who was fished out of the harbor is actually dead, but appears to be alive because he's being inhabited by another spirit.
What follows isn't anything earth-shattering – it's just the untangling of a complex web of mysteries and deaths that occurred at the same time. It's really hard to explain without going into detail, but it's a great example of Bujold's world building, especially around the religion of the five gods in this world. This story gets into the core of what it means to follow the Bastard – Pen and Des draw some very moving conclusions in the end.