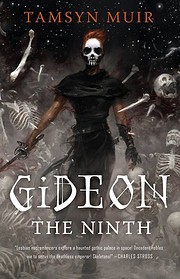 I know I've mentioned before that I get a really stubborn streak about not reading books that get crazy popular, and this book definitely fits that definition. As time went on, I started to see more "this really isn't what the hype makes it out to be" reviews, and one of my friends (whose taste I trust) had it on her bookcase and said she's enjoyed it, so when they gave away this book free (I think it was right before the second book in the series came out in paperback), I grabbed it. Still took me a while to read it.
The most common phrase associated with this book is "Lesbians necromancers in Space!". Which isn't wrong, but turns out to be a terrible summary. Yes, there's plenty of lesbian interest, but no overt romance, and while it's far enough in the future that space travel happens, and the characters come from a bunch of different planets, the main action of the book takes place on a single planet.
So, can I do a better summary? Nope. I totally get why this book became so popular. It's different. I never really knew what was going to happen next (or, if I did, I ended up not really understanding why until later.) I am very interested to see where it goes next, because I was certainly not expecting what happened at the end of this book. (And seeing the summary of book three really has me wondering what the heck is going on.) So, I guess I'm converted. The hype is not unfounded.