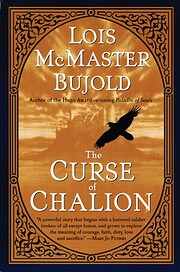 Original review here.
I don't normally write up rereads, but I really needed to mention again how good this book is. (Really, everything Bujold writes in this world is excellent.)
I love the religion, and how the gods are fairly hands off, because they need to work through humans. And I love how those people (the saints) are not saints as we would think of them (at least if you're lapsed Catholic like me) – they are good, and bad, and in between, but what makes them saints is that they allow the gods to work through them.
I also love Caz. He is just so real, and broken, and just wants to live his life. And when he's thrust into interesting times, he rolls with it like a real person. I just love these books – Bujold is an absolute master of her craft.