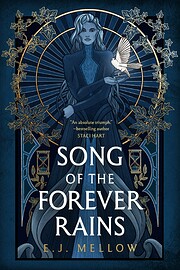 This was a really interesting book, something a little different. Larkyra is the youngest daughter of three – daughter of the one of the first families of Jabari, but also one of the Mousai – the sorceress daughters of the Thief King. Magic has been lost to their world, for the most part, which is why they lead a double life.
Lord Darius has come to Jabari on a desperate mission – his step father has stolen Darius' title, and is ruining the land of Lachlan. Darius' last hope is the Thief King, who only promises that he will think on helping. What he does do is send Lark back home with Darius, ostensibly to be courted by the step father, but actually to see if they can help.
The magic in this book is interesting, and the setup of the three daughters who are more powerful together is also really interesting. What ended up throwing me a bit were the notes at the end, which explains where the author came up with all the characters names, and just came off as being a little bit too smart. I don't why they struck me that way, but I'm actually sorry I read those notes. I'll still read the next book though.