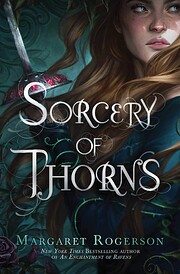 The Great Libraries store the grimoires of Austermeer's sorcerers. It's an interesting dynamic – the librarians fear the power of the sorcerers, but everyone knows that it's the sorcerers' magic that keeps their country safe from enemies.
Only orphans are recruited to be librarians, but even they usually only enter the service of the Libraries as teenagers. Elisabeth Scrivener is different – she was left at the Summershall Library as a baby, and has grown up around the living books of the library. One day, a young sorcerer comes to the library, and Elisabeth is shocked to find that he's not the monster his kind has been portrayed to be. Which is fortunate for her, because she makes an impression on Nathaniel Thorn, and when she is falsely accused of murder, he remembers her, and helps her in the quest to clear her name. They end up finding themselves in a plot larger than they could have imagined, where only a sorcerer and librarian working together will be able to save their country.
I really liked the world building in this – the system of magic is really interesting. (There's a third important character I haven't mentioned for spoilery reasons.) I also really liked that it's a standalone story. I have so much respect for the author being able to wrap this up in one book – I feel like that never happens anymore, and I've missed being able to set something down and enjoy that complete feeling.