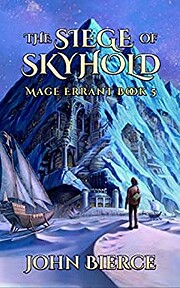 I'm going to admit, I'm a little annoyed. I'm running out the clock on my Kindle Unlimited really cheap subscription (I am actually one of those people that'll keep it to the introductory timeframe and not renew again until another deal comes along). So I figured I'd finish out the Mage Errant series – five books is totally doable, right?
The series isn't complete! I'll need to wait to find out what happens! So annoyed!
Anyway, the students are back at Skyhold, and all the gloves are off. The Havathi have come to Skyhold, and it's all out war. What's pretty cool about this book is seeing everyone rising up to their potential and the kinds of things they pull off when threatened. But now that I know things aren't over, and there was a pretty good twist at the end, I need to know what happens next!