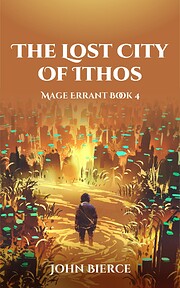 Our mage student friends are journeying with their teachers Alustin and Artur to find the lost capital of the old Ithonian Empire. It's been under a spell that's actually erased all memory of it from the world, but that spell is breaking down now, because some people are able to remember that the city exists.
There are a bunch of cool new places to explore along the way – the world building in this series is great! Of course they do finally find the city, and that's pretty interesting as well. The battle to secure it from their enemies becomes pretty intense.
This book is definitely a little bit more of a pass through – you know there's more coming, and it'll clearly be bigger and more important later, but this story was definitely interesting enough from a world building perspective to serve as a worthy pass through.