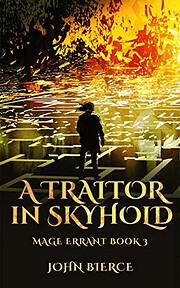 Back from Theras Tel, it's time for school to resume, but our student friends have been thrust into a bit of a dilemma. The end of their first year culminated with a trip into Skyhold's Labyrinth, where they found out the demon Bakori had been influencing Hugh to try and take over his powers.
They were able to escape, but the normal test at the end of the year is another trip into Labyrinth, and while most of the teachers agree Hugh and his friends should not go back in, the council votes against letting them to another Labyrinth. There have been signs that someone on the council may have been working with Bakori, but now Alustin, Kanderon and Artur, the friends' main teachers, are sure of it.
We also get to meet Sabae's grandmother, who's the head of one of the most powerful human mage families in the world, which is definitely interesting. More and more hints of something large going on are coming to the fore, and it'll be interesting to see where our young friends fit into that.