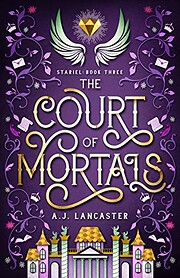 I've developed this really bad habit lately of parsing out books in series, even if I have all of those books available to me. I read the first book in this series a couple years ago, having gotten it for free. I did see that the others were available on Kindle Unlimited, so I figured I'd get around to reading them the next time I re'uped that. Well, that time is now, and I picked out book 2 as the first book I read. And then promptly moved on to other things. At which point, I ran into a few stinkers, and realized I'm being an idiot, and should just finish out the darn series already.
Hetta and Wyn definitely want to marry, but she needs permission from the mortal Queen, and Wyn needs permission from the High King of the Fae. In the meantime, rumors are beginning to fly around the mortal kingdom of Prydein about them, and the queen summons them to the southern capital. She's really not sure what to make of Wyn, which puts he and Hetta's relationship into an ackward position.
Couple that with Wyn's worst sister trying her best to take over their father's kingdom, and lashing out at her siblings when things aren't going well, and things are getting rather complicated.
I liked this book because it didn't keep the "will they or won't they" going to ridiculous lengths – Wyn and Hetta take some very definitive, erm, steps, toward staying together. And I really like that them doing their best still hasn't solved everything. I've already checked out the final book in the series – I'll start it tonight at the latest.