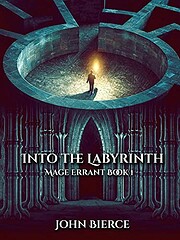 Hugh of Emblin is shipped off to the mage school at Skyhold as soon as his powers manifest – Emblin is rather proud of its reputation for no magic, and everyone there wants him gone as soon as he displays powers. The trouble is, once at Skyhold, no one can seem to teach him to use his powers.
Hugh's pretty much despaired of being a mage when he's chosen as an apprentice by Alustin, the librarian errant, along with two other students that the mainstream teachers have given up on. It turns out all three of them have unique powers, and Alustin seems to be the only teacher paying attention enough to want to take them on.
The first year at the school ends with teams of students testing themselves by entering the first level of the Labyrinth below Skyhold. So naturally, adventure with their unique powers awaits.
I enjoyed this book – it's a great mage school story, and definitely an interesting set up for future stories in this series. I'm looking forward to Hugh, Talia and Sabae continuing their studies.